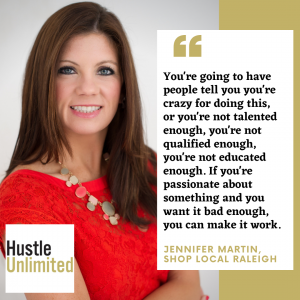 "Any time you shop local and independent and you spend money in our community, more of that money recirculates back here. And that means money for roads, money for schools, you know, money for general infrastructure. And it just helps create more jobs here."
Jennifer Martin is the Executive Director of Shop Local Raleigh, and she comes on the Hustle Unlimited Podcast to talk about why it's so important to shop local, the incredible events (like Brewgaloo) that they're running to support the community, why businesses should join Shop Local Raleigh, and the advice she has to up-and-coming entrepreneurs.
Hustle Unlimited is hosted by Walk West CEO, mentor, investor, and hustler himself, Donald Thompson.
Music for this episode provided by Jensen Reed from his song, "You Can't Stop Me".
Hustle Unlimited is edited and produced by Earfluence. For more on the Earfluence Podcast Network, visit @EarfluenceMedia on any social media platform.
Podcast: Play in new window | Download
Subscribe: Apple Podcasts | Android | Google Podcasts | RSS