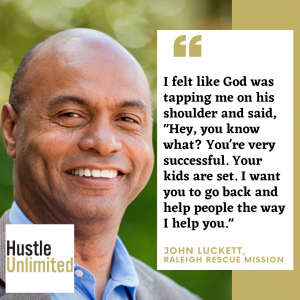 John Luckett went from poverty in Missisippi to successful businessman to serial entrepreneur, and now he's giving back as the CEO of Raleigh Rescue Mission. Tune in to hear all about John's unbelievable journey, what brought him to Raleigh Rescue Mission, what the media portrays about homelessness versus reality, and what you can do to help your community.
Hustle Unlimited is hosted by Walk West CEO, mentor, investor, and hustler himself, Donald Thompson.
Music for this episode provided by Jensen Reed from his song, "You Can't Stop Me".
Hustle Unlimited is edited and produced by Earfluence. For more on the Earfluence Podcast Network, visit @EarfluenceMedia on any social media platform.
Podcast: Play in new window | Download
Subscribe: Apple Podcasts | Android | Google Podcasts | RSS